It's pumpkin spice EVERYTHING season! Here are some of my favorite camping recipes for pumpkin spice – they're quick and easy to make and take with you on the road in your new or used RV! You'll probably love them for at-home enjoyment, too!
Pumpkin Spice Latte
So, you're probably not packing along your espresso machine in your new or used RV, but we wouldn't blame you if you did! In the meantime, here's a copycat recipe for a good pumpkin spice cuppa joe:
½ cup STRONG coffee
1 cup milk
2-4 Tbs pumpkin syrup
Aerosol whipped cream
Cinnamon or nutmeg sugar for sprinkling (1/4 cup white sugar mixed with 1 tsp of either cinnamon or nutmeg – use this to sprinkle lightly on top. Don't use the whole mixture!)
Directions:
Heat milk in microwave until steaming hot while you make the coffee
Combine coffee and pumpkin syrup in a large mug. Stir to combine.
Gently pour in hot milk and stir to combine.
Top with whipped cream and a dash of spiced sugar.
Pumpkin Spice Waffles
These waffles are SO easy and delicious! Pro tip: mix together the dry ingredients ahead of time and store in a food storage bag in your new or used RV's kitchen pantry. That way, you have instant waffle mix ready to go and all you have to do is whisk in a few other ingredients and pour onto a sizzling travel size waffle iron!
Dry ingredients (mix together ahead of time)
2 /12 cups all-purpose flour
1/3 brown sugar, packed
2 1/4 teaspoons baking powder
1 teaspoon baking soda
2 teaspoons ground cinnamon
1 teaspoon ground ginger
1/4 teaspoon ground cloves
When you're ready to make the waffles, dump dry ingredients into a mixing bowl and re-whisk to mix up. In a separate bowl, combine the following:
4 large eggs
1 cup milk and 1 cup buttermilk
1 cup canned pumpkin
6 tablespoons butter, melted
Fold the dry ingredients gently into the wet ingredients and mix slightly – it's okay for the batter to still have some lumps.
Pour immediately into hot waffle iron pre-sprayed with cooking spray. Top hot waffles with maple syrup and chopped pecans or other toppings of your choice!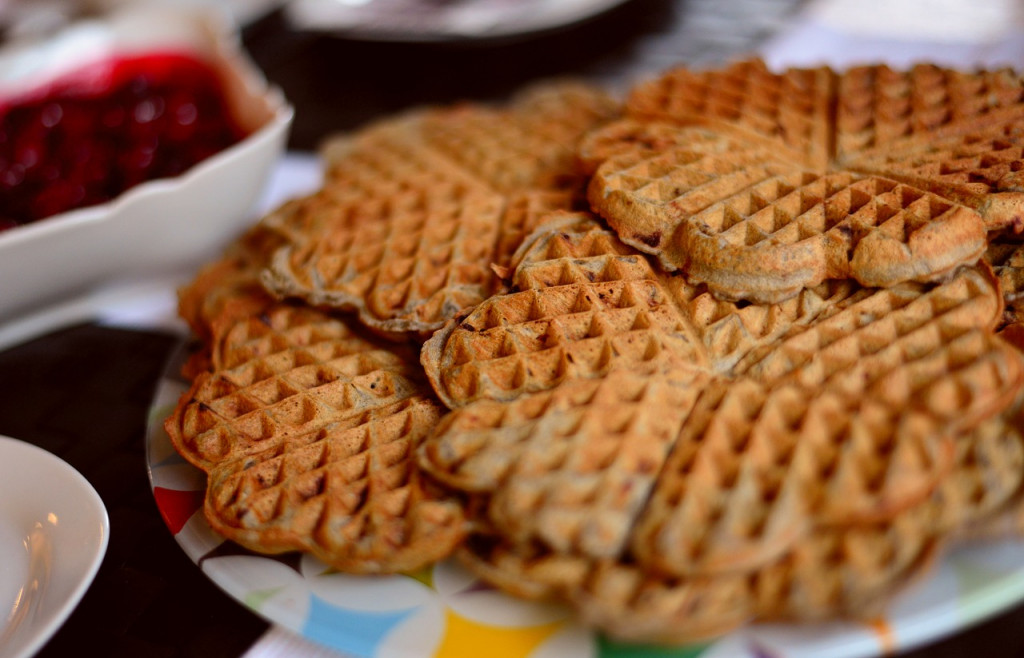 Pumpkin Spice Oatmeal
This is another hot and hearty breakfast that's perfect for camping. All you have to do is mix together the ingredients the night before in your Crock Pot. It literally cooks overnight!
2 cups steel cut oats
One 15-oz can pumpkin
2 teaspoons pumpkin pie spice
1/4 cup brown sugar
6 cups water
2 cups milk
1 tablespoon vanilla extract
Pro tip: line your Crock Pot with a liner for easy clean up. If you don't use a liner, give your Crock Pot a quick spray of cooking spray. Add all ingredients together in the Crock Pot, place the lid on, and cook on low heat for 5 hours.
What pumpkin spice recipes are you looking forward to trying this fall? Contact us today if you need any service for your new or used RV before you head out on your next fall camping trip!