You're going to love the features in our brand new Elkridge fifth wheels for sale! Our 2020 and 2021 Elkridge RVs for sale accommodate families of 4 to 6 people, depending on floor plan, so you can enjoy a comfortable vacation in a spacious RV. The kitchen in our Elkridge 37BAR unit is especially beautiful, and we're highlighting what makes it so great in our Elkridge fifth wheel review below. Take a look and come check out these beautiful RVs today!
Kitchen Features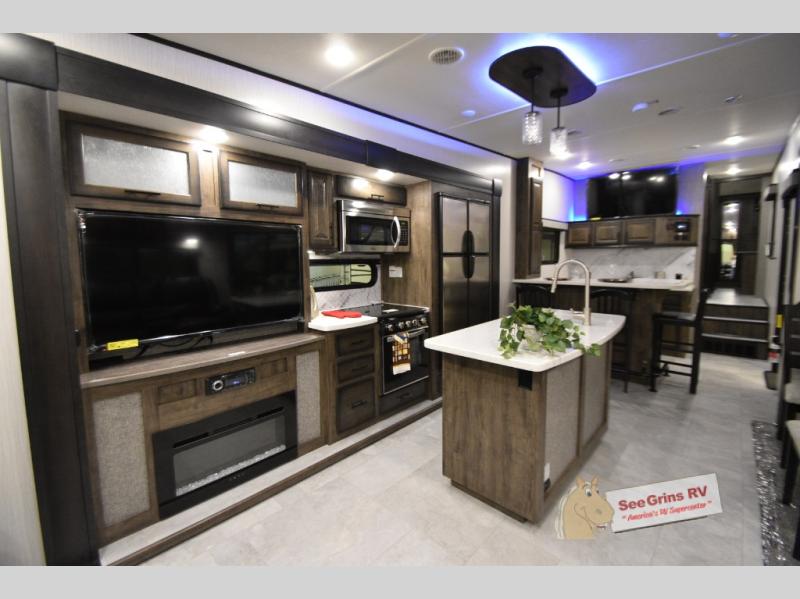 Sometimes cooking in an RV can be crowded and frustrating. Not so in an Elkridge! Our Elkridge 37BAR for sale includes plenty of countertop space, a kitchen island, and even a bar that's perfect for a quick meal, enjoying a drink, or setting out snacks for the kids. If you're traveling to visit friends, you'll love having the bar and being able to welcome guests in for a fun evening of refreshments.
The kitchen arrangement in this unit is not just functional, but beautiful as well. And the island provides even more room to prepare a meal. The standard kitchen features include:
Solid Surface Countertop
13 Cubic Foot Residential Stainless Steel Refrigerator
Deep Stainless Steel Kitchen Sink
Recessed 3-Burner Cook Top with Oven
Residential Microwave Oven
Free-Standing Dinette with Four Chairs
Living Area Features
You'll absolutely love being able to enjoy a gorgeous living room and entertainment center before, during, and after meals! Whether your model includes a sofa or recliners with heat and massage, you can kick back and relax.
The living room includes these features:
LED HD TV
Fireplace
Night Shades Throughout
Decorative Glass Inserts in Overheads
Ceiling Fan
Choose the Model That's Best for You
We'd love for you to compare each of our Elkridge fifth wheels for sale and see which unit is perfect for your family! If you don't need a kitchen bar, we have Elkridge RVs without it! We can help you choose the ideal new or used RV for your family, so contact us today!